Eye camp is the most effective way of providing eye care service to a large number of people in a short time. We identify a large number of cataract patients through these eye camps. It is completely free for patients. We conduct eye camps with the cooperation of local administration, union parishad and educational institutions.
In 2019 a total 125 eye camps were held in different districts of Bangladesh. In these eye camps 83,454 patients were screened, 3205 spectacles were distributed and 468 eye drops given out. From these eye camps 5815 eye surgery patients were identified and later operated through our partner hospitals. ECP provided different services in the eye camps by expert eye doctors. In these eye camps basic services were provided such as screening and correcting refractive errors by providing eye glasses, providing medicines to address allergy and other eye conditions, identification of cataract and other surgical cases.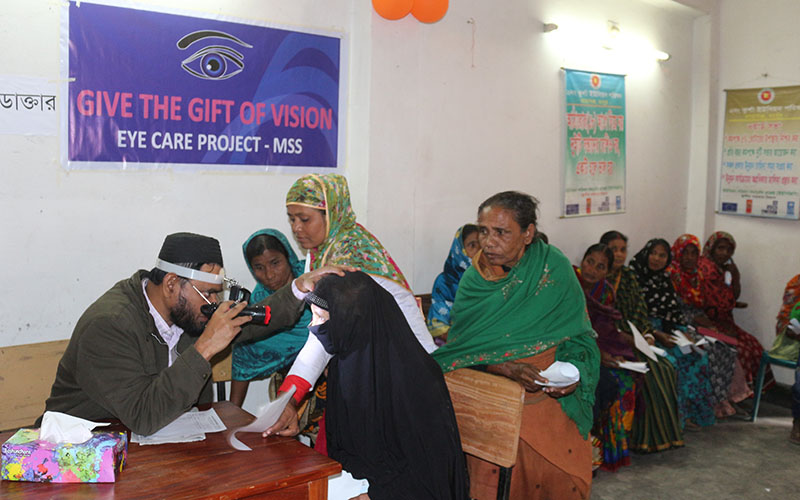 Two types of Eye Camps:
ECP-MSS conducted two types of eye camps. The first type is "Public Eye Camps" which are larger eye camps catering 600 to 1000+ patients conducted in the remote rural areas. The other type of eye camp is conducted by the Eye Vision Center – MSS (EVC-MSS) which are smaller Branch-based eye camps catering to the members of the MSS – Women's Credit Program (MSS-WCP) and their family members. These EVC-MSS eye camps cater to around a 100 patients. Both camps focus on underserved people. Both types of eye camps provide free eye care services.
During 2017 the ECP conducted 12 public eye camps in different districts of Bangladesh and 15 EVC-MSS operated eye camps. Partner hospital of ECP-MSS provided technical assistance by way of providing equipment and specialized doctors, technicians, refractionist, paramedics and support staff to run the eye camps. During 2014-2019 ECP-MSS conducted 125 eye camps and 83454 patients screened.
ECP-MSS distribute spectacles and medicine as needed in the eye camp and at School Sight Testing Program (SSTP) among the underprivileged.