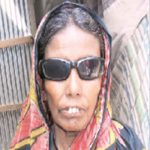 Morzina said "I was a house maid but due to eyesight problem, the housewife sacked me. I was gradually transforming into a neglected person and my blindness reduced my social status and self-esteem." Morzina added, "due to poverty I could not go the hospital but MSS restored my eyesight by surgery. Now my dignity and self-esteem is also restored"
Mosammat Morzina Bewa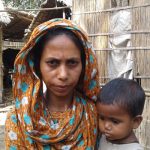 She is from Dimla, Nilphamari. She was suffering from blindness for cataract. She could not take care of her child and family for low vision. She could not do any work outside for earning. Their income decreased and suffered hardships. She could not go to doctor for eye treatment for money. But ECP-MSS helped restore her eyesight. Her life changed and she came back to her normal life.
Aklima Begum
/
Dimla, Nilphamari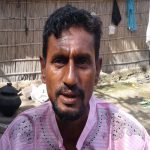 Aksed Ali is a street hawker. He used to sell chanachur on a van. He was suffering from pterygiam. He is the only earning member of the family. His income declined sharply as he could not go for selling chanachur. His eye problem was getting worse day by day and could not maintain the family. In the meantime, Eye Care Project-MSS helped him for pterygiam surgery. He is well now and restarted his small business. Once again they find peace and normalcy in the family.
Aksed Ali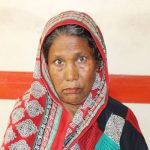 Saleha, 70, is a street beggar living in Kuril slum, Dhaka. Her husband passed away many years ago. She is a destitute woman. There is no one to look after her. She was suffering from pterygium as well as cataract from last one year. It was unsafe for her to go outside and move around. At such a critical time of Saleha's life, one of the donors of ECP-MSS referred her to Eye Care Project. Thereafter, ECP promptly took the responsibility to restore her eyesight. After both surgeries now Saleha can see clearly. Her vision is restored and she is able to move around on her own.
Saleha
/
Kuril slum, Dhaka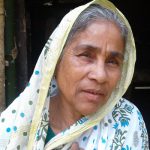 Amina said "I felt giddy and could not get up from the bed. I could not see things clearly even from a little distance and objects appeared blurred like fog". Amina, a helpless woman, lives in Khagakharibari, Dimla, Niphamari. She was suffering from cataract in both her eyes. Due to the poverty she could not go to hospital for the surgery. In this situation ECP-MSS found her at an eye camp and facilitated her cataract surgery. Now Amina can again see things clearly. She is leading a normal life now.
Amina
/
Khagakharibari, Dimla, Nilphamari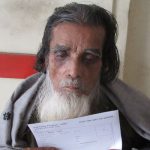 Marfot Ali, 80, a disabled person living in Kalabangan area old Dhaka city. He is a skinny and unhealthy old man. Moreover, he was suffering from cataract and DCT in both eyes from last two years. Earlier, he used to sell vegetables for his livelihood. Due to his physical condition and eye problems he was unable to work from last two years. He has no child. His wife works as a maidservant and runs the family with her meager income. His cataract was identified by the Eye Vision Center of MSS. ECP then took the responsibilities to remove his cataract. After successful surgery of DCT and Cataract, now Marfat Ali can see things clearly. He is back to his normal life. Marfot Ali thanked his sponsor and ECP for restoring his eyesight.
Marfot Ali
/
Kalabagan, Dhaka